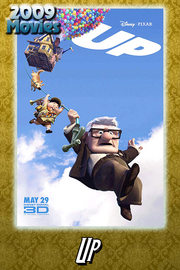 Brandon A. Mayo held this tournament to determine the most-liked film of 2009. Held in the spring of 2010.
Voting Rules
[
]
The 8-man Mini-Tournament format introduced by "Robot Masters" returns. Here's how it will work:
This format will repeat itself over 4 weeks, with a different Mini-Tournament each week. The four Mini-tournament winners will compete during Week 5 for the title!
In the event of a tie, the Metacritic score was used to determine which film would advance to the next round.
---
Tournament 1
[
]
Round 1
[
]
GI Joe: The Rise of Cobra

d

Hurt Locker

(4-2)

Up

d

Friday the 13th (2009)

(6-0)

Where the Wild Things Are

d

Moon

(3-2)

Inglorious Basterds

d

Paranormal Activity

(5-2)
Round 2
[
]
Up

d

GI Joe: The Rise of Cobra

(4-3)

Where the Wild Things Are

tied

Inglorious Basterds

(3-3) - WTWTA has a higher Metacritic Score (71-69), advances
Round 3
[
]
Up

d

Where the Wild Things Are

(4-2)
Tournament 2
[
]
Round 1
[
]
Transformers: Revenge of the Fallen

d

Ponyo

(4-2)

Avatar

d

Ong Bak 2

(4-1)

Black Dynamite

d

Thirst

(5-0)

Zombieland

d

X-Men Origins: Wolverine

(4-2)
Round 2
[
]
Avatar

d

Transformers: Revenge of the Fallen

(5-1)

Black Dynamite

d

Zombieland

(4-2)
Round 3
[
]
Black Dynamite

d

Avatar

(4-3)
Tournament 3
[
]
Round 1
[
]
Drag Me to Hell

tied

He's Just Not That Into You

(4-4) - Drag Me To Hell had a higher Metacritic Score (83-47), advances.

Star Trek

d

2012

(8-0)

The Hangover

d

Sherlock Holmes

(6-2)

The Princess and the Frog

d

Jennifer's Body

(4-3)
Round 2
[
]
Star Trek

d

Drag Me To Hell

(4-2)

The Hangover

d

The Princess and the Frog

(3-2)
Round 3
[
]
Star Trek

tied

The Hangover

(2-2) - Star Trek had a higher Metacritic Score (83-73), advances
Tournament 4
[
]
Round 1
[
]
District 9

d

Terminator Salvation

(5-0)

Taking Woodstock

d

The Wrestler

(4-1)

Coraline

d

A Christmas Carol

(3-2)

(500) Days of Summer

d

Watchmen

(3-2)
Round 2
[
]
District 9

d

Taking Woodstock

(4-0)

(500) Days of Summer

d

Coraline

(3-0)
Round 3
[
]
District 9

d

(500) Days of Summer

(3-2)
Final Tournament
[
]
Semis
[
]
Up

d

Black Dynamite

(4-1)

District 9

d

Star Trek

(3-2)
Finals
[
]
Bonus
[
]
Up

d

Mortal Kombat

,

Mortal Kombat Annihilation

and

Batman & Mr. Freeze: Sub-Zero