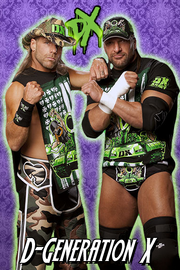 Unsatisfied with their station in the World Wrestling Federation in late 1997, Triple H and Shawn Michaels combined their forces, along with Triple H's bodyguard Chyna and Shawn Michaels' "insurance policy" Rick Rude, to form D-Generation X, a group of sophomoric pranksters who used dastardly tactics to win matches, and would tell their opponents to "Suck It."
Following Shawn's injury in early 1998 and Rick Rude departure to WCW, Triple H took the helm of the DX Army, and recruited Shawn Waltman, Billy Gunn and Road Dogg, to form the New DX. The four (and Chyna) eventually separated ways, but have had occasional reunions throughout the years. Shawn and Hunter would reunited in 2006, eventually winning the WWE tag team championships, but the celebration was short-lived when HHH injured his quadriceps muscle in January 2007. They had another reunion in 2009 that ended when Shawn was forced into retirement against The Undertaker at Wrestlemania XXVI.
The group have continued a strong friendship, resulting in every major member appearing at Raw 1000.
Shawn and Hunter took on mascot character Artie the Artichoke in the opening round.