Favorite MK Ninja was the very first Heir to the Throne Quickies battle. It lasted for two rounds, and was held in Late March - April of 2011.
Round 1
[
]
Round 2
[
]
Round 2 featured all the characters who tied in the first round:
<gallery captionalign="center" orientation="portrait"> Subzero.png|Sub-Zero (3)|link=Sub-Zero Smoke.png|Smoke (1)|link=Smoke Ermac.png|Ermac (0)|link=Ermac Noobsaibot.png|Noob Saibot (2)|link=Noob Saibot Cybersubzero.png|Cyber Sub-Zero (1)|link=Sub-Zero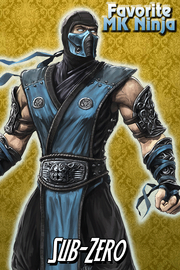 Sub-Zero, winning his very first HTTT tournament!