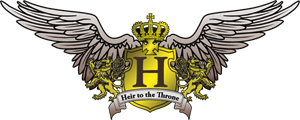 What is "Heir to the Throne?"
[
]
Welcome! The Heir to the Throne Tournament Wiki is a resource for the Heir to the Throne Tournaments, regularly held on http://PsychoAndy.proboards.com (except for 2011, when they were held on http://HawkAndCroc.proboards.com) - Learn about the characters and objects on which you are voting, and see the records of past HTTT Tournaments.
"Heir to the Throne" is a series of tournaments that are run just for fun, on a variety of topics, like 2D Fighting game characters, ice-based characters, ice cream flavors, animals, the best movies of 2009, WWE Champions, etc.
Current Tournament
[
]
Previous Tournaments
[
]
Below is a list of previous tournaments sorted by year. You may view the results of each tournament by clicking on its name:
| | | | |
| --- | --- | --- | --- |
| 2007 | 2008 | 2009 | 2010 |
| | | | |
| 2011 | 2012 | 2013 | 2014 |
| | | | |