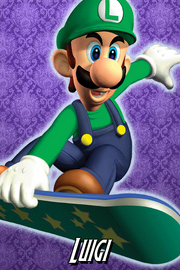 Luigi is the younger brother of Mario. He can do nearly everything that Mario can do, but generally does it second. Except for hunting ghosts! Luigi totally did that first. And even though he had to be unlocked, Luigi appeared in the first Smash Bros competition as his older, shorter brother.
In the live-action segments of the Super Mario Bros. Super Show, Luigi was portrayed by actor Danny Wells. In the 1993 live-action film, Luigi was portrayed by John Leguizamo.
Amusingly, "Luigi" is not only a legitimate Italian name, but also the Romanization of ルイージ, which roughly translates from Japanese as "clone."
In his Heir to the Throne debut, Luigi defeated Chun-Li in the first round, Yoshimitsu in the 2nd, his brother Mario in round 3, Terry Bogard in round 4, Sub-Zero in the fifth round, Donkey Kong in the 6th round, and Spider-Man in the finals, to become the 3D Fighters Champion!
Luigi made it to the finals, and lost to Terry Bogard in controversial fashion.
Luigi was eliminated by Zorak in the first round